Creation of Calendar DIN A3
SIMPLY UPLOAD

You have your own complete artwork? Upload file(s) and check the preview.

Upload your
own design
Prices
Calendar DIN A3 - Digital printing
Quantity
single sided
1

16.98 €

5

29.98 €

10

41.98 €

25

69.98 €

50

129.98 €

100

239.98 €

250

469.98 €

All prices include VAT. and exclude shipping
Click for More Pricing
Specifications
File Specifications
File Size:
299mm x 422mm
Bleed size:
1.00mm
Final dimensions:
297mm x 420mm
Resolution:
300 dpi
Recommended Colorspace:
CMYK
Number of pages:
13 or 14 pages:
cover page +
pages for all 12 months +
1 optional extra page
File-plan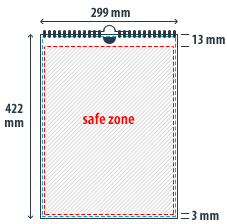 File templates
File Templates - Guidelines and Templates/Start Files for creating your own artwork
Which program would you like to use to design your artwork?
Please note the guiding lines and their meaning
File Format (Full bleed size):


Backgrounds need to extend all the way to this size.

Cut line:


Cards are cut here. A small trim tolerance is possible (see Design Tips).

Safezone:


Please make sure that the objects which are not supposed to be cut off are within that zone.
Hints about saving files
Use CMYK colour mode
Save PDF as Acrobat 4 (pdf 1.3) with "High-quality printing"
Save jpg or tiff in highest possible quality
do not exceed 24 MB per side
processing time and shipping:
Option:
Cost:
Duration:
Delivery Time:
* Without Package Tracking ** With Package Tracking
Prices valid only for 1 set. Cost for multiple sets available here.